Are you someone who enjoys styling your hair? Then, you know that having the right tools is essential for a good hair day. Combs are one of the oldest and most rudimentary tools used in styling and maintenance. Understanding these types and their purpose can save time working on your hairdo! In this blog post, we'll discuss common comb varieties available today and the benefits they provide to stylists and consumers.
Combs
This type of tool is useful not only for women but also for men. This type of tool helps you to create perfect hairstyles and to comb through your hair easily. However, you must be careful when choosing a comb because some combs are only good for thick hair, and some are only good for thin hair. Choose a comb with teeth spaced close together if you have thin hair. If you have thick hair, a wide-toothed comb would be better.
Pin Combs
Pin combs are great for creating beautiful updos and creating curls. These combs feature short pins that can help to section off the hair for styling. They also work wonders for straightening out troublesome sections of curly or stubborn hair.
Vented Comb
This comb is a good choice for blow drying and curling, as it helps reduce frizz by allowing the heat from your blow dryer to pass through the teeth of the comb quickly. This comb also makes it much easier to style hair as you can direct the airflow from your blow dryer where you need it.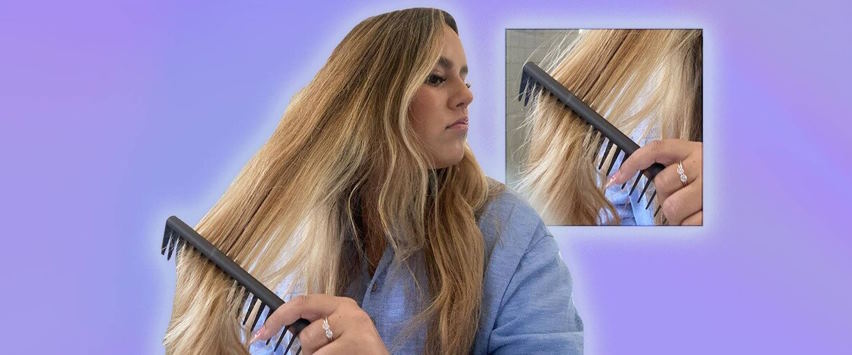 Paddle Combs
Paddle combs are ideal for detangling and brushing out knots. They have wide teeth that can help to gently detangle the hair without causing damage or breakage. This type of comb is also great for helping you to evenly distribute the product throughout your hair, like a Leave-In Conditioner.
Massage Brush
The best tool for combing hair is a massage brush or bombage. This accessory is a special comb with even bristles on a rubber cushion. With this tool in your arsenal, you will give your hair smoothness and shine. Bombage is also used as a head massager, which improves blood circulation, due to which the hair grows faster and becomes stronger and more manageable.
Tangle Teezer
Recently, a professional hair brush that is good for even the most tangled hair has become popular among people who style hair and among people who like to use high-quality accessories. This brush has bristles made of plastic, and people who have used it say it doesn't pull out as much hair as a regular comb. This brush is great for people who have problems with tangled hair.
Overall, it is important to understand the different types of combs available on the market and how they are used so that you can get the best results when styling your hair. With this knowledge in hand, you'll be able to achieve a perfect hairstyle with minimal effort. So go forth and make all your hairdo dreams come true.