Our favorite memories are strongly tied to certain places, people, and times of the year. For example, the scent of rain on a hot summer day or the aroma of wood burning in a cozy winter hearth creates vivid tactile experiences outside sight and sound. But did you know that there's no bad weather for perfume? Each season brings unique fragrances that remind us why we love those moments so much! So if you're searching for seasonal scents, look no further—in this blog post, we walk through some amazing fragrances made specifically for each season!
Warm perfume for winter
Your favorite perfume can make you feel better even if you have a cold. If you use the advice of perfume stylists, you can even achieve a pleasant side effect – in this case, warming. What can warm you in the most severe cold better than a burning and passionate oriental elixir? In its quality, the classic oriental fragrance from the iconic French fashion house Yves Saint Laurent – Elle will show itself remarkably well. It will wrap you in a cozy fluffy scarf woven from fruits, flowers, and sugar lemon zest – there is simply no chance of freezing!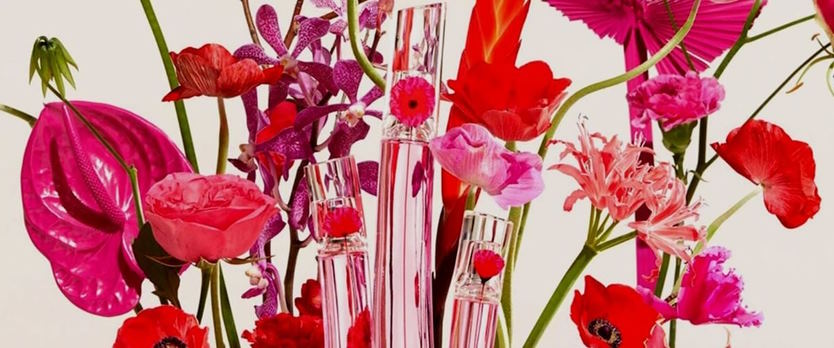 Suitable fragrance for spring
The Masaki Matsushima Haiku Sillage de The from the famous Japanese brand smells like green tea with light citrus and vanilla nuances. However, if you want a brighter and deeper sound, you should get a real diamond from the Thierry Mugler brand – Aura. A witch's bottle in the form of a faceted green heart is filled with a woody-floral elixir. Notes of iris, sandalwood, and patchouli will remind you of the warm time of year when everything comes to life. The men's equivalent is Dior Homme Intense – a classic aroma with a hint of smoky leather and spices that perfectly complements any spring look.
Summer scent for hot days
You should choose a light floral fragrance if you love wild nature. For example, Flower by Kenzo – a beautiful composition of wild grasses, wisteria, and cedar will remind you of wonderful summer days with their freshness and gentle shades. Men can try the Versace Eros Flame with woody notes of black tobacco and tonka bean: it perfectly emphasizes the masculinity of its owner and is suitable for any summer adventure.
Fall scents for brisk days
With fall comes cool, crisp days – perfect weather for a cozy evening at home or a walk in the park. For such moments, you should choose warm aromas like Narciso Rodriguez Fleur Musc with musk, rose, and pink pepper notes, which will envelop you like a soft fluffy blanket. Men, who love to be in the spotlight, should pay attention to Paco Rabanne 1 Million – a luxurious potion with sparkling top notes of grapefruit, mint, and blood orange that will give its wearer an extra dose of self-confidence!